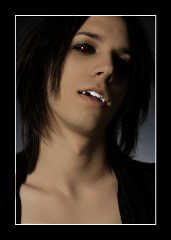 Asmodeus is. . . well, freakin' Asmodeus.
IC Information
Edit
Basic Info
Edit
Name: Asmodeus. No known surname.
Nicknames: Asmo. Calling him this does irritate him, though he doesn't let it show.
Age: As old as Hell itself, making him ancient.
Race: Formerly a fallen angel, now corrupted into something. . . more.
Gender: Male.
Relationship Status: Single.
Orientation: Has been known to stick it in Kyle. This means he's either bisexual or gay.
DoB: N/A, due to himself not remembering. However, if pressured, he places it at May 9th.
Birth Place:
Residence:
Accent:
Occupation: Ruler of Hell and the Abyss.
Social Class: As close to the top of the food chain as you can get without being Asa.
Economic Class: The man bleeds rubies. Whaddaya think?
Alignment:
Basic Stats
Edit
Abilities:
Hobbies & Talents:
Weaknesses:
Fears:
Personality
Edit
Asmo is a jerkface D< Asmo lets everyone think he's a jerkface. Really, he's a jerkface to everyone but Kyle and Nikita. And people that Kyle pressures him into not being a jerkface to. So really, he's a reforming jerkface who probably wants to stop being a jerkface.
Social Standings
Edit
Friends:
Rivals:
Enemies:
Crush:
Known relatives:
Pets:
Physical Information
Edit
Height:
Weight:
Build:
Skin Colour:
Hair Colour: Black, with white wisps in the back.
Eye Colour: Red irises, black sclera
Other bodily features:
Attire:
Items & Weapons:
Name Origin:
Theme Song:
Voice Sample: Marko Saaresto
Medical Record
Edit
Back Story
Edit
ASMO IS A STUPID HO! D<
/coughcough
TBE.
Notable Friendships
Edit
Nikita is Asmodeus's personal servant.
Kyle is his. . . other servant.
TBE
They have an. . . on/off stalker/stalkee relationship, which is currently 'on' and where Asmodeus happens to play the role of the stalkee.

Something to be edited here.
Edit
IDK. TBE.
Perfection
Edit
OOC Information
Edit
Asmodeus's favorite food is chocolate, especially truffles or mousse.
He dislikes Devil's food cake, as well as most every other kind.
Asmodeus does have a Formsprings account, located here.
Ad blocker interference detected!
Wikia is a free-to-use site that makes money from advertising. We have a modified experience for viewers using ad blockers

Wikia is not accessible if you've made further modifications. Remove the custom ad blocker rule(s) and the page will load as expected.